Explore the forest on foot! We are now offering adult sized snowshoes rentals at Haliburton Forest Wolf Centre.
Make the most of your day by taking in all the Wolf Centre has to offer, then getting outside to explore our network of soft-use trails.
Weekdays | $10/pair
Weekends & Holidays | $12/pair
*HST not included
Pick-up/drop-off located at Haliburton Forest Wolf Centre at 1305 Redkenn Road, Haliburton Ontario, K0M 1S0.
Rent just the snowshoes, or save 10% off your rentals when you book your Wolf Centre admission and rentals together! Discount available for online or over-the-phone advanced reservations only.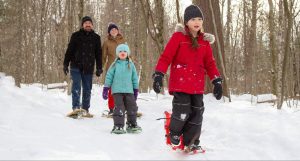 New to snowshoeing or experienced and want to try something new? A number of guided snowshoeing experiences are available through Yours Outdoors!
Click the links below to find out more and book.
Snowshoes are available for rental when there is sufficient snow on the trails. Typically this will be early or mid December until mid to late March.
Rentals are available during Wolf Centre open hours only. To see current hours, click here.
Dress for the weather! Layers are always a good idea, so you can adjust as you warm up while active, or cool down when resting.
We recommend winter hiking shoes or winter boots.