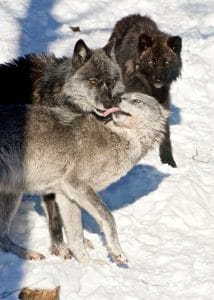 Howl for your Honey
And the wolves too, with this unique Valentine's Day event. Join one of Haliburton Forest's staff on an exclusive after-hours tour of the Wolf Centre. This couples event will include games and activities designed to help you and your partner bond.You will also get the rare opportunity to witness our wolves being fed and afterwards enjoy a romantic dinner of your own.  After dinner, head out on snowshoes through the forest for an evening bonfire, accompanied by s'mores, hot chocolate and a Wolf Howl!
Cost: $190.00/ per couple
Don't forget to bring your flashlight and dress in layers suitable for spending time outside in the snow!
Book a spot for you and your honey today!
Stay overnight at our onsite accommodations, and take full advantage of all the activities we offer!  Try dog sledding or snowmobiling while visiting Haliburton Forest.