Our Siberian huskies love to pull sleds in the winter and they love to pull bikes in the fall. If you have experience mountain biking and are looking for a more thrilling, active adventure, join us for a bikejoring, training session. "Joring" means driving in Scandinavian languages and you will be putting one of our dogs in the driver's seat!
This activity is not recommended for those new to mountain biking.
Friday, Saturday and Sunday at 5:00 pm - 7:00 pm
$50.00 per person plus HST.
Two adults max mountain bike and helmet rentals included.
For $25 add a Burger & Beer at The Cookhouse Restaurant afterward (Must be 19 year or older for beer, otherwise it will be substituted for another non-alcoholic drink.)
Searching Availability...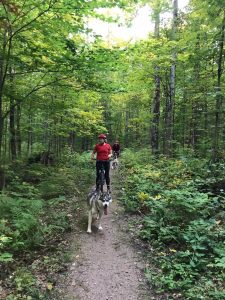 5:00-7:00 pm - Friday, Saturday, Sunday on select weekends in October.
2020 Dates: Oct. 9-11, Oct. 16-18
Dress for the weather! Layers are always a good idea, so you can adjust as you warm up while active, or cool down when resting.
Proper running or hiking shoes are required.
Guests must be able to bike under their own power along forest trails.
For the health and safety of our dogs (and yours), we do not permit guests to bring their own dogs for this activity. We also ask that if any of your pets at home are ill, that you postpone your visit to a later date.
Please do not bring treats for the dogs. New food can be very hard on their tummies.