Haliburton Forest Paddle Shop
paddles@haliburtonforest.com
705-455-2684
Weekdays 9 to 5
Hand Crafted, Traditional, Wooden Canoe Paddles.
The Haliburton Forest Paddle Shop is proud to offer one of the largest choices of made-to-order, handcrafted, premium solid wooden canoe, kayak, and SUP paddles in the beautiful Haliburton Highlands, Ontario Canada.
Each wooden paddle is hand crafted in our Paddle Shop using lumber grown and responsibly harvested from sustainably managed forests in Ontario.
Wooden paddles are classic and are unmatched by any other material for natural looks, liveliness, flexibility and warm feeling in your hands. They are often slightly heavier than fiber composite paddles but can be lighter than paddles with plastic or aluminum parts. Wood does require some upkeep, ranging from the occasional / seasonal dab of oil or varnish on a chipped area to a full sanding and refinishing.
The less a paddle weighs, the less fatigue you will feel during a long day of canoeing. But do not choose a paddle based on weight alone — the best paddle offers a good balance of light weight, strength and flexibility. For whitewater canoeing, a short, strong & stiff paddle will hold up to the rigors of the river and provide a quick response in rapids. For flat-water canoeing, a longer, flexible paddle will help absorb shock with every stroke.
Some of our wooden paddles feature wood laminates that can include both hard and soft woods. This combination results in reduced weight and increased durability and strength. These laminated paddles have a layer of fiberglass over the blade for added strength and/or have a resin edge guard to improve durability and help resist abrasion. These laminated paddles have an option to add a resin tip or a resin edge and a layer of fiberglass over the blade for added strength to improve durability and help resist abrasion.
To create your custom wooden canoe paddle, you can choose wood type, length, blade style, resin edge guard and even add laser engravings to further personalize your paddle. Once finished, each Haliburton Forest paddle is a unique wood carving, and work of art. No two paddles are the alike.
Made to Order:
All our products are handmade and can take up to 14-30 business days to make. If you are looking for something that is available quickly, please reach out to us and we will try to accommodate.
Please contact us using the details listed above, or by using this form. We also have an online store here.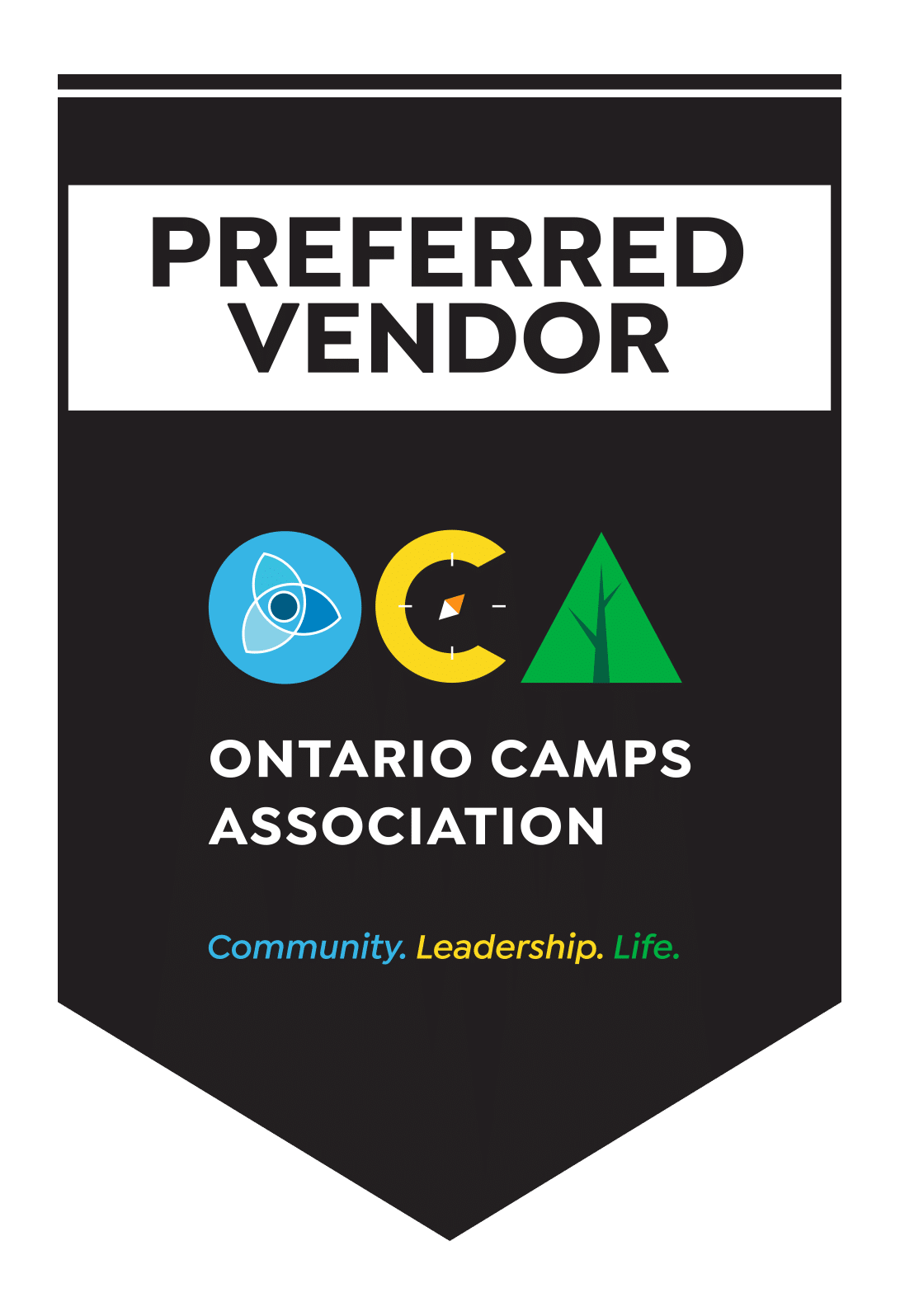 Haliburton Forest Paddle Shop is also proud to be a Preferred Vendor for the Ontario Camps Association.
To order paddles for your camp, classroom, or outdoor education centre, please contact us by emailing paddles@haliburtonforest.com or give us a call at 705-455-2684.
Beaver Tail with Standard Grip

Traditionally, an all-rounder, suitable for multiple paddling situations. This blade is consistently wide from the tip to the top.  Allows for a day long steady pace. Available in Traditional or Modern Style, $140.

Otter Tail with Voyageur Grip

A finesse style of paddle, suitable for the extra-long days and in turn will be easier. This blade starts out wider at the throat and then tapers off to a narrower tip. Ottertail paddles tend to be longer overall, making it a great choice for the solo paddler. Available in Traditional or Modern Style, $140.

Husky Tail with T-Grip

A powerful blade designed to move lots of water. Best suited for the stronger paddler or for those that find themselves in moving and/or shallow water, $140.

Laminated

Straight laminate: + $75 to the beginning total of your paddle.

Feather laminate: + $100 to the beginning total of your paddle.

Add-ons:

Add Fiber Glass, +$60.
Add a Resin Edge, +$50.
Add a Resin Tip, +$30.
Add Laser Engraving, +$15 – $50 (starts with simple text, increases for images etc).
Add Hemp Oil, Wood Finish 1/2 pint (236.5ml), $12 each
Wood Choices

Ash: Ash is a strong impact resistant wood, which is guaranteed to delight even the most demanding of canoe enthusiasts. The durability of this wood allows for an excellent flex, and is known for its light colour and spectacular grain.

Cherry: A popular wood due to its attractive red grain which overtime, can sometimes darken into a rich, deep colour. In addition to the beautiful colour, this wood is strong and lightweight making for a flexible blade. It is our top selling wood type, and a popular choice with both sport canoeists and recreationalists.

Maple: Maple paddles feature a moderate flex, are extremely durable, and are about the same weight as Ash.

Specialty Wood: Birdseye Maple, Curly/Flaming Maple are currently our specialty woods. Birdseye, Curly/Flaming Maple provides you with the same functionality as Maple, but is beautifully stunning with its unique grain. + $30 to the beginning total of your paddle.

Others: Basswood and Birch

Fractical Burning

Take your paddle customization one step further with this cool looking process! This option is a special add on. Also known as Lichtenberg figures, this process can burn and leave 'lightning bolts' as deep as a ¼". These grooves are then filled with a marine grade resin epoxy to even the finish out. Colour epoxy options are clear, black, red, blue & green. Both sides, the shaft and grip will be fractal burned in random fashion. + $100 to the beginning total of your paddle.
Finished by Hand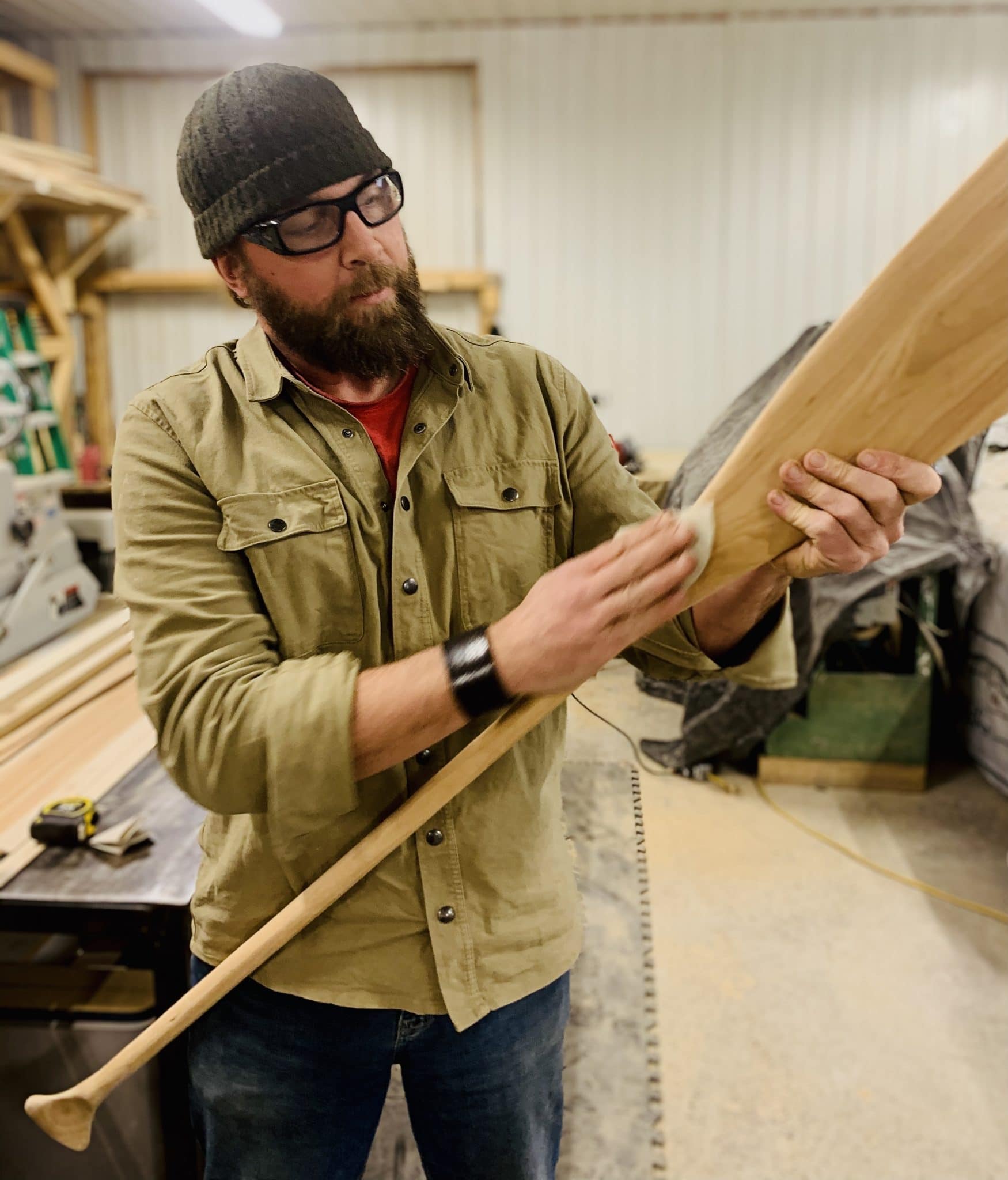 All Haliburton Forest Paddles are hand finished. Our preferred finish of choice is wood oil with naturally occurring mold & mildew protection, which allows us to provide a hand-rubbed durable, matte finish for each paddle.
Also, we offer a rugged polyurethane gloss varnish finish with UV protection for those high use situations or combine the 2 so that you get a hand-rubbed polyurethane varnish on our paddle blade along with an oiled shaft and grip. Paddles are also available unfished or 'raw' as well. We also offer a natural stained/ tinted paddle known as 'Ebonizing'. Ebonizing wood is the effect of darkening or blackening a naturally lighter colored wood to appear more like black ebony wood. Ebonized wood can be created with a reactive process or other means to color the wood darker or black, like ebony, while still allowing the wood grain to show through. Favorite wood to ebonize: Ash, Cherry because of the higher tannins.
Custom & Personalized
We can even personalize your already unique paddle with initials, names, logos or crests with our state-of-the-art Universal Laser Systems laser engraver. The creative options are endless!

Paddle Care & Maintenance
Keep your paddles looking and performing their best by ensuring routine maintenance and proper storage.
MAINTENANCE
Most of our solid wood paddles come with a traditional hand-rubbed oil finish (100% All Natural Hemp Seed Oil). It is very easy to maintain the finish on our oiled paddles and maintenance can be a good cure for those post-trip blues.
Disclaimer: This guide provides a general outline of the steps, however, be sure to carefully read labels, follow manufacturers' directions and use appropriate safety equipment for all products you are using. 
What you will need:
Hemp oil or any other drying oil of your choice (e.g. Boiled linseed, Tung, etc.)
Mineral spirits
Clean, lint-free rags or blue shop towels
400-600 grit wet/dry sandpaper
Nitrile or rubber gloves
Safety equipment (as required)
Directions:
Clean and wipe down the paddle with some mineral spirits.
Wait until the mineral spirits has dried (usually 10-15 minutes).
Put a small amount of boiled linseed oil on a rag*. You need just enough to dampen a small area of the rag.
Apply it directly onto the paddle to create an even coating of oil.
Wait about 5-10 minutes. Then use a 400-600 grit sandpaper* with the grain on the entire paddle. This will effectively drive the oil into the paddle and fill small voids in the finish.
Buff the paddle down with a clean rag, in a circular motion, with & against the grain.
* Rags and sandpaper soaked with boiled linseed oil, varnish and other drying oils can spontaneously combust if they are not disposed of properly. Please ensure that you carefully read all product labels and instructions to properly dispose of any used materials as recommended by the manufacturer. 
 STORAGE
To get the most out of your Haliburton Forest canoe paddles, we suggest the following care instructions:
When not in use, store your paddle in a cool, dry space, away from any heat source or high moisture areas (e.g. furnace rooms or basements).
Store your paddle upright and off the ground, preferably in a paddle holder. If you do have to lean your paddle, it is suggested resting the blade on the floor with no more than a hand's width from the wall to the blade.
After the season, clean and oil your paddle and store it. This will prevent your paddle from drying out and will keep it well seasoned for your next adventure.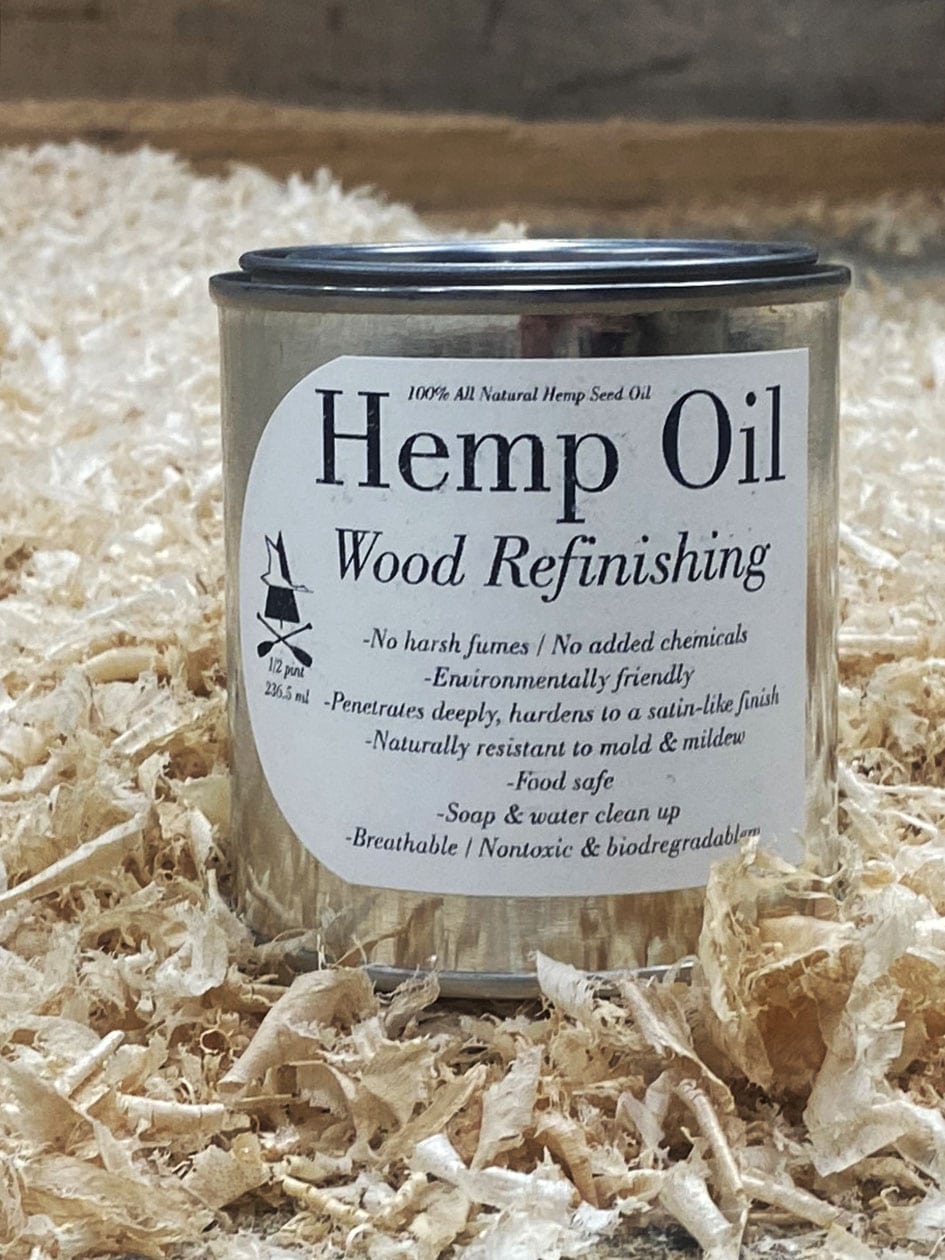 Haliburton Forest Paddle Shop sells Hemp Oil for your paddle care projects, $12.
Keep your paddle looking great, while protecting it from the elements!
– No harsh fumes, no chemicals added
– Environmentally friendly
– Penetrates deeply, hardens to a satin-like finish
– Naturally resistant to mold and mildew
– Food safe
– Soap and water clean-up
– Breathable, nontoxic, and biodegradable
How Long Should Your Canoe Paddle Be?
There are more variations of canoe paddles available than you can imagine. So many that it can be intimidating to choose. But in general, you want to get the shortest paddle that lets you submerge the blade of your paddle into the water, without having to bend unnaturally to stroke and paddle.
More specifically, most people paddle with their upper grip hand at about chin to nose level. The quickest way to estimate the distance from your chin or nose to the throat of your paddle where it enters the water is to measure your torso length.
To do that sit in a chair and measure from the flat surface of the chair between your legs to your chin or nose, depending on if you want your hand a little lower in front of you when you paddle, or not.
Once you have that measurement, below is a quick sizing guide for recreational paddle lengths.
Note: Blade dimensions affect paddle length. Longer and narrower bladed paddles will require that your optimum paddle be longer in overall length. Shorter and wider paddle blades will require shorter overall canoe paddles in order to fit & work correctly.
Canoe Paddle Sizing Guide

| | |
| --- | --- |
| Torso Measurement | Straight Paddle Length |
| 20″ | Youth 36″ |
| 22″ | Youth 42″ |
| 24″ | Youth 48″ |
| 26″ | 51″ or 52″ |
| 28″ | 54″ |
| 30″ | 56″ or 57″ |
| 32″ | 57″ or 58″ |
| 34″ | 60″ |
| 36″ | 62″ |
| 38″ | 64″ |